First handspun? I turned it into an adorable little bowl, which I of course can't find a picture of right now. Of course.
So between the spinning and the work and the trip to PDX and everything else that's been going on this month, I snuck in a few minutes to try overdyeing some laceweight with Kool-Aid. I don't really knit with laceweight anymore (between my lack of patience for lace and the on-and-off hand problems), but I keep thinking I will and this had been in my stash for a while.
Before:
And after: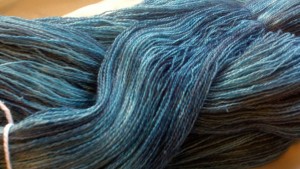 I did this a few weeks ago and don't at all remember what colors I used. What I do know is that I am much more fond of the yarn in its current state and I'm thinking to try some crochet with it, most likely the new design that's been beating the hell out of the back of my head for a while now. Hopefully I can do justice to the yarn!